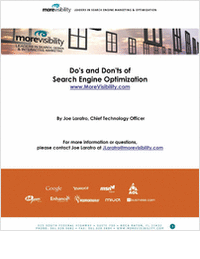 "Do's and Don'ts of Search Engine Optimization"
Examine the proper techniques of Search Engine Optimization as well as which ones to avoid.
The world of Search Engine Optimization has a colorful past of both good quality techniques and poor quality techniques, also known as Spam. Search Engine Optimizers have been categorized as White Hat or Black Hat. The White Hat techniques embrace a "Best Practices" approach to SEO. They typically work for both the good of the Web site and the good of the Search Engines. Black Hat techniques can actually harm results and devalue a web site.
This Paper will examine the techniques that fall under both sides of Search Engine Optimization. The grey area topics will not be covered. The past few years have seen great achievements in communication between Search Engines and SEOs / Webmasters. This communication has led to a much clearer path for long term successful Natural Search Engine Optimization.